The Usambara mountains are located between Kilimanjaro and the Indian Ocean. Some of the tops rise to well over 2000m. Between steep cliffs and rocky hilltops are set small communities of the pastoral Usambani tribe. The high altitude and fertile soils attracted German, British and other European settlers. This is an excellent place to visit for a few relaxing days if you are travelling overland between the coast and Kilimanjaro and the northern gameparks. Lushoto, at the heart of the Usambara, can be reached in a 5 hour drive from Moshi. Although a variety of accommodation is available in the area we recommend two places in particular:
Muller's Lodge a beautifully built old farm house with a very relaxed, comfortable atmosphere taking you back 50 years in time.
St. Eugene's Hostel, a modern and very well presented guesthouse adjoining a Montessori Training College set in spacious gardens.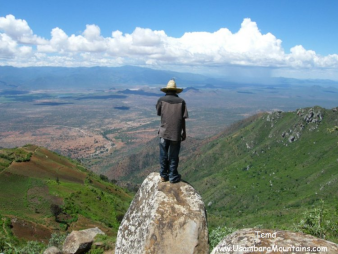 6 DAYS - LUSHOTO AND USAMBARA MOUNTAINS TOUR ITINERARY - Walking
DAY 1: ARUSHA - LUSHOTO
In the morning at 0730hrs depart from Arusha Moshi or Dar to Lushoto West Usambara where you will arrive in the early afternoon for lunch. Afternoon walk or drive to Irente viewpoint and Irente Farm. The farmers produce many types of fruits, which are sold in Arusha, Dar, Moshi and Morogoro. Meals and overnight in Lawns hotel, White house hotel, Grant hotel or Campsite.
DAY 2: LUSHOTO - MAGAMBA FOREST (6-7hrs)
Breakfast followed by walking to the Magamba rainforest, visit an old stranch dug by the German during World War 1, the guide will provide an explanation of German and British Colonial history. Proceed on walking thru the rainforest of Magamba to the village of Lukozi for dinner and overnight in guesthouse or camping.
DAY 3: MAGAMBA FOREST - USAMBARA VILLAGES (5- 6hrs)
Breakfast, then walk along valleys and sloping hillsides of the inner Usambara Mountain passing by the vegetable farms lined with eucalyptus and banana trees. You will pass thru the villages of Malindi, Makose and Kagulio, proceed to Rangwi Catholic mission for dinner and overnight, in Rest house or Camping.
DAY 4: USAMBARA VILLAGES
After breakfast walk to Mamboleo or Tema villages, these villages are well known for their soil conservation and traditional irrigation project which concentrate on the development of stone and bench terraces to improve farming, thorough explanation by your guide on how the people of Shambaa tribe living in the area do keep their surrounding environment. Dinner and overnight at Mamboleo village camping.
DAY 5: USAMBARA VILLAGES - MTAE
After breakfast, proceed on walking to Mtae and there after you will climb Shegayu peak 2,220 m, where on clear days you will be able to see Mt. Kilimanjaro and Taita hills across the border to Kenya. You will have lunch enroute, dinner and overnight at Mtae.
DAY 6: MTAE VILLAGE – LUSHOTO
Wake up at 0600hrs for early morning breakfast, after breakfast check out from Mtae and yet in the private vehicles for Lushoto where you will arrive in time for lunch. After lunch the driver with take you back to Arusha or proceed with your next travel.
Use the dropdown menu above to access information on any of the Kilimanjaro routes or the Meru climbs we lead.